Description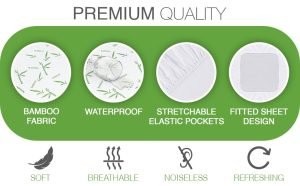 PREMIUM BAMBOO FABRIC
Designed with your comfort in mind, this mattress protector features a blend of Bamboo and Polyester fabric which protects your mattress and gives a refreshing experience.



FITTED SHEET DESIGN
The Protector works like a fitted sheet, wrapping right round your mattress. The elastic borders makes it easy to stretch the protector and fit the base of the mattress




STRETCHABLE SIDES
The impermeable TPU backing makes it waterproof and protects your mattress against fluids, stains from perspiration or from other bodily fluids and incontinence
CARE INSTRUCTIONS
Hand wash or machine wash separately in warm water (Maximum 60°C), using a mild detergent (free from any bleach).
Tumble dry on low heat with bed sheets or other clothing or air dry. Do not iron; Do not dry clean.
Please do not use any solvents or bleach, bleach alternatives, non-chlorine bleach or any bleach by-products in the detergent
Avoid using the harsh chemical as it reduces the absorbency of the material.
SPECIFICATIONS
SKU UBBAMBOOMATTRESSPROTECTORTWIN88
ASIN B01E02DU6E
Manufacturer Utopia Bedding
Pieces Per Pack 1
Pieces Per Carton 6
Carton Dimensions 21 x 12 x 11 inches
Carton Weight 13.5 pounds