Description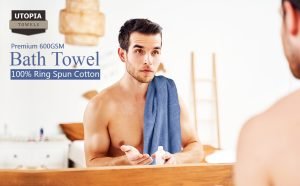 RINGSPUN 100% COTTON FOR SMOOTHNESS
How refreshing it feels to wrap yourself in a soft, absorbent, fluffy bath towel after a warm shower! Made of 100% cotton fabric, these towels possess breathable characteristics which make them perfect for your hands and body. It is soft, agreeable to touch, and ideal for people with skin hypersensibility.
Being terry in nature, these weaves are the most absorbent of all kinds with loops on both sides that create extra surface area for completely drying off your hands and body.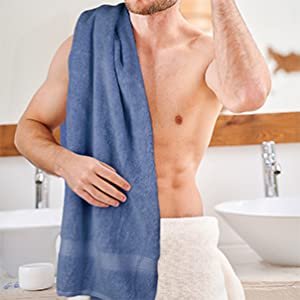 INDULGE WITH THE BEST
Pamper yourself with the 100% Cotton bath towel that is made from soft and durable ring-spun terry. Each bath towel provides optimal coverage, absorbency, and versatility. Use on the beach or poolside as a vacation accessory, or treat yourself to spa-quality towels at home. Generously sized 69 x 137 cm bath towel is extra absorbent and practical for quick drying, ample coverage, or comfortable lounging. Professionally hemmed edges are carefully crafted to enhance towel's quality and durability. Towels are highly absorbent and will remain soft after multiple wash and dry cycles.


DOUBLE STITCHED HEMMED FINISHING
The towels come with double-stitched hemmed finishing for less amount of disintegration after washing. The towels are made with combed cotton and 2 ply yarn.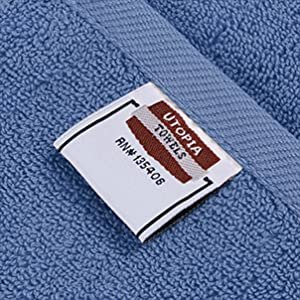 WASHING INSTRUCTIONS
Follow the instructions below while washing your towels:
– Before you start using your towels, it is advised to wash them to remove the excessive lint that is left over during the manufacturing process. In order to decrease the risk of color bleeding use half the amount of detergent that you would normally use along with ½ to 1 cup of white vinegar (about 120-240 mL).
– Wash towels separately from all other items of clothing as it will decrease the transfer of towel lint to other clothing.
– Use warm water to wash towels in order to avoid color bleeding.
– Always use a light detergent when washing towels. You can use an ordinary amount of detergent on towels that are heavily soiled.
– Do not use fabric softeners as they decrease the life and fluffiness of your towel by breaking down the fabric.
– Do not use bleach at any stage of washing and drying
DRYING INSTRUCTIONS
Before drying your towels, toss them lightly to make sure that the fibers on the surface of the towels stay fluffy. After that, follow the instructions below to dry your towels:
– If you are using a dryer, use the high heat setting. Be careful though, you should not over-dry the towels. You should remove the towels from the dryer when they are 95% to 97% percent dry.
– Hang them up afterward in an area with good air. If towels are damp, you should never hang them over one another.
– Dry the towels immediately after washing them.
– It is best to dry your towels in direct sunlight. Do not use an iron on these towels.
SPECIFICATIONS
SKU UTELT4BT2754-600GMELECTRICBLUE
ASIN B07Q2XMPWL
Manufacturer Utopia Towels
Pieces Per Pack 4
Pieces Per Carton 16
Carton Dimensions 21 x 15 x 20 inches
Carton Weight 19.4 pounds