Description


RINGSPUN 100% COTTON FOR SMOOTHNESS
How refreshing it feels to wrap yourself in a soft, absorbent, fluffy bath towel after a warm shower! Made of 100% cotton fabric, these towels possess breathable characteristics which make them perfect for your hands and body.
Being terry in nature, these weaves are the most absorbent of all kinds with thread loops on both sides that create extra surface area for completely drying off your hands and body.
COMPLETE SET
This 8-piece Premium Towels set by Utopia Towels provides a complete package of four washcloths, two bath towels, and two hand towels to meet all your needs. Turn to this set for a plush and fluffy feel when drying your hands and face. Our towels and washcloths aim to keep you clean and dry you off while adding to the look of your bathroom simultaneously.
The towels measure:
Bath Towels: 27 by 54 inches
Hand Towels: 16 by 28 inches
Washcloths: 12 by 12 inches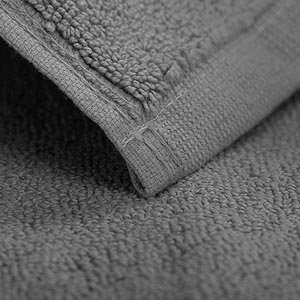 DOUBLE STITCHED HEMMED FINISHING
The towels come with double stitched hemmed finishing for less amount of disintegration after washing. The towels are made with combed cotton and 2 ply yarn.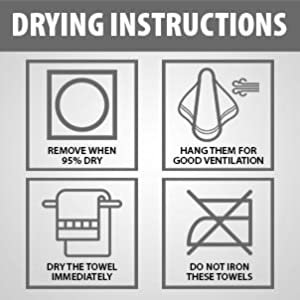 DRYING INSTRUCTIONS
Before drying your towels, toss them lightly to make sure that the fibres on the surface of the towels stay fluffy. After that, follow the instructions below to dry your towels:
If you are using a dryer, use the high heat setting. Be careful though, you should not over-dry the towels. You should remove the towels from the dryer when they are 95% to 97% percent dry.
Hang them up afterward in an area with good air flow. If towels are damp, you should never hang them over one another.
Dry the towels immediately after washing them. You can rotate and turn over your towels periodically to ensure an even dry.
It is best to dry your towels in direct sunlight. Do not use an iron on these towels.
SPECIFICATIONS
SKU UTSLTOWELSETWHITE
ASIN B00GQP1034
Manufacturer Utopia Towels
Sets Per Carton 8
Carton Dimensions 21 x 14 x 20 inches
Carton Weight 30.4 pounds