Description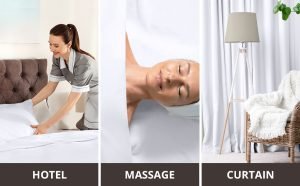 height="300″ class="alignnone size-full wp-image-3470″ />
Care Instructions
– Machine Wash Cold: Machine wash the sheet/s in cold water. However, hand wash is recommended.
– Gentle Cycle: Wash the sheet/s on a gentle cycle with light detergent if required.
– Do Not Bleach: Avoid using iron, bleach, or fabric softeners, as the chemicals can damage the sheet/s.
– Tumble Dry: Air dry is best for drying since microfiber dries relatively quickly. However, if you plan to use the dryer, set it on low heat or no heat.