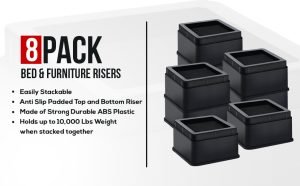 ANTI-SLIP FOAM AND RUBBER PADS
Utopia Bedding Furniture Risers (Pack of 8) is made of high-quality ABS plastic material that is capable of holding up to 10,000 lbs. These furniture risers give a bed, sofa, chair, or any other furniture an elevation of approximately 5 cm. The inner space of the risers ensures that the legs of your furniture are securely locked inside the furniture riser, making it easy to move. With the help of anti-slip foam and rubber pads, you can easily move your heavy furniture and adjust your room setting without causing any harm to your floor. No heavy lifting of furniture is required as these risers give support to the 4 posts of your bed, sofa, couches, or table. You can easily raise the height of your bed, sofa, couches, or table with this set of 8 furniture risers, by stacking them on top of each other.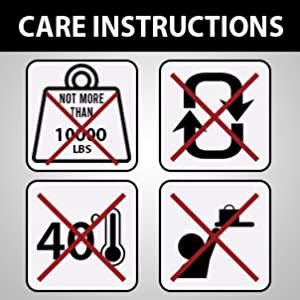 CARE INSTRUCTIONS
– Avoid putting up the weight of more than 10,000 lbs.
– Do not use the furniture risers inverted.
– Keep away from extreme temperatures.
– Do not use with stools, recliners, sitting benches, or any other lightweight furniture.
– Keep away from reach of children.
SPECIFICATIONS
SKU UBFURNITURERISER2INCH
ASIN B081THLTBD
Manufacturer Utopia Home
Pieces Per Pack 8
Pieces Per Carton 48
Carton Dimensions 17 x 9 x 19 inches
Carton Weight 0.0 pounds