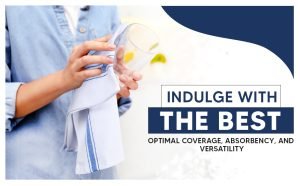 INDULGE WITH THE BEST
Purchased after much research or handed over as a family heirloom, your expensive crockery deserves the best care, hence these super absorbent and fluffy dish towels are there to serve the purpose. Each dish towel provides optimal coverage, absorbency, and versatility. Use it in your kitchen or on any floored surface in order to treat yourself using these high-quality towels. Dry the lightest of glasses, delicate dishes, or even the worst of spills using these towels in order to get relief in no time. Generously sized 15 x 25 inches' dishtowel is extra absorbent and practical for quick drying, ample coverage, or comfortable lounging. Professionally hemmed edges are carefully crafted to enhance the towel's quality and durability. Dish towels are highly absorbent and will remain soft and shrink-free after multiple washes and dry cycles. So enjoy the luxuries offered by these towels in the best possible manner for an extended period of time.


CARING INSTRUCTIONS
Bleaching softens towels, but it also causes them to wear out faster.
Always wash new towels before use as an excess dye, chemicals, etc., may still reside in factory produce towels.
You can also use fabric softener on towels.
SPECIFICATIONS
SKU UTDISHTOWELSIDESTRIPEBLUE
ASIN B00JCG1V42
Manufacturer Utopia Towels
Pieces Per Pack 12
Pieces Per Carton 300
Carton Dimensions 17 x 16 x 15 inches
Carton Weight 42.51 pounds