Description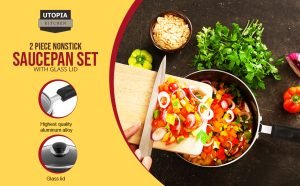 PROFESSIONAL GRADE 2-PIECE SAUCEPAN SET
A professional-grade 2-piece set ,having one unit of 1-quart saucepan and one unit of 2-quart saucepan. The pans carry a thickness of 3 mm with a 2-layer non-stick coating inside and a heat-resistant paint on the outside, making sure that quality is not being compromised at any time. The set is built using top quality aluminum alloy so that it can produce the finest of results over an extended period, hence making your meal times better. Whether it's boiling pasta, making sauces, preparing meat or reheating leftovers, these saucepans will serve you perfectly.
These Aluminum Alloy Saucepans are the cornerstone of every kitchen. The premium cookware is built using high-quality aluminum alloy which enables even and efficient heat distribution. This heavy and durable saucepans are non-reactive, keeping the flavors natural and tasty. It is perfect for frying, searing, and browning foods. Designed with high, straight sides and a smaller surface area, these saucepans hold heat well and limit evaporation.
CARE & WASHING INSTRUCTIONS
Wash the saucepans with hot soapy water before using and dry the pans off with a clean cloth
Dry the pans completely using a soft cotton or linen towel after every wash
Let the saucepans cool before washing them
Make sure to remove any food remains from the pans before washing
Use plastic or wooden utensils to keep the non-stick coating in great shape

SPECIFICATIONS
SKU UKSAUCEPAN2PCSET
ASIN B07NQJ4XM6
Manufacturer Utopia Kitchen
Sets Per Carton 4
Carton Dimensions 21 x 15 x 10 inches
Carton Weight 0.0 pounds