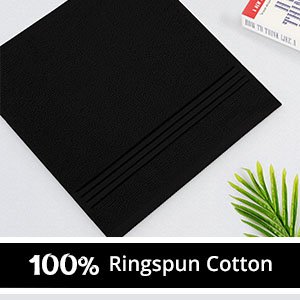 100% RING-SPUN COTTON
Our wash cloths enhance your bathing and washing experience like never before. The freshness of the cotton sufficiently absorbs all the moisture from the body while being delicate to your skin. The fluffy towels wrap around the body and hands completely giving a soft and luxurious feel to top your experience. The ring-spun composition of the face towels on both sides increases the surface area which maximizes absorption leaving your hands and body completely dry with minimum wipes.
The premium quality of the 600 GSM face towel ensures maximum absorption as it is denser but light in weight. The sizing of the towels perfectly complements all your purposes while providing a generously luxurious feel. These towels are perfect for domestic and commercial use as they are reliable and last long. Enjoy the lush soft touch of our towels which will exquisitely appreciate your bathing experience.


WASHING INSTRUCTIONS
Ensure long life and durability make sure to wash the towels well and dry them as quickly as possible. Wash the towels nicely with warm water and light soap to maintain freshness and minimize lint. Follow the instructions below while washing your towels:
It is advised to wash the towels before using them to remove the excessive leftover lint during the manufacturing process. Use half the amount of ligh t soap than usual to minimize the risk of color bleeding along with ½ to 1 cup of white vinegar (about 120-240 mL).
Wash towels separately to avoid transferring towel lint to any other clothing.
Use warm water to wash towels to avoid
SPECIFICATIONS
SKU UTWC700GMBEIGE
ASIN B01NCNP9EH
Manufacturer Utopia Towels
Pieces Per Pack 12
Pieces Per Carton 216
Carton Dimensions 21 x 14 x 20 inches
Carton Weight 32.4 pounds