Description


How Might I Be Sure the Pad is Comfortable?
While some pads have a scratchy surface, that can be harsh on the skin and radiate uproarious crinkling commotions each time you move, our pad highlights a delicate sewed layer and poly inward layers for a smooth, cushiony feel. Additionally, our non-slip backing decreases grouping and slipping. The Utopia Under Pad utilizes just premium quality materials and has built an underpad so lavish that you'll rest positive about the information that you're shielded from any mischance.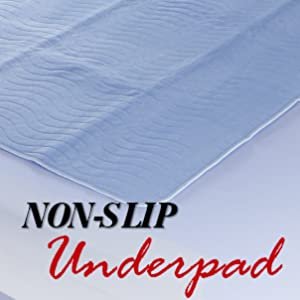 What Makes Utopia Non-Slip Underpad Different?
Different pads may move around amid the night, leaving your bedsheets helpless against releases, our pad moves around less on account of our selective non-slip backing giving you the perfect and most comfortable sleep at night.
At Utopia, we take pride in conveying top-quality items that improve your life. In the event that your Premium Bed Pad doesn't satisfy desires – we need to get notified from you so we can make it right.
How Absorbent is Your Pad?
The Utopia underpad can retain up to 3 cups of water. Our remarkable 4-layer configuration traps fluid in the cushion and after that scatters it, keeping your sheets dry. Additionally, with our liberal size, 18 x 24 inches, you are getting the most extreme scope whether in bed, the love seat or in a hurry.
Is the Pad Machine Washable?
Totally. Simply machine wash the pads and tumble dry, your pad will be prepared for one more night of premium. Our pads are made to keep up absorbency for up to 3 cups of water and are likewise protected from blanch. By picking our washable pad you are sparing a lot of expensive dispensable cushions – a brilliant approach to going green.

SPECIFICATIONS
SKU UBCFKUNDERPADTUCKIN34X364PCKWHITE
ASIN B08LH8X5KY
Manufacturer Utopia Bedding
Pieces Per Pack 4
Pieces Per Carton 24
Carton Dimensions 20 x 13 x 19 inches
Carton Weight 0.0 pounds