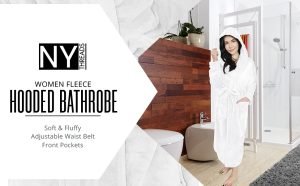 Soft, Plush Polyester Flannel Fleece Women Bathrobe
NY Threads bathrobes are made from the highest quality flannel fleece for great comfort. The soft and fluffy nature of the bathrobe enhances the user experience by far so that you can have it on for a prolonged period. No matter what your day has to offer, you can start and end it in comfort with this full-length robe in use. So wear it after taking a shower, before going to bed, etc. and be at ease.
Hood: It gives a stylish look to the robe and helps in keeping your head warm after taking a shower
Front Pockets: Two front pockets for holding frequently used items like cell phone, especially when the bathrobe is put on for long
Waist Belt Closure: The adjustable waist belt helps in securely closing the robe from the front so that it can be worn with confidence <br.


Care and Washing Instructions
– Machine wash the bathrobe in warm water and tumble dry on low heat setting
– Wash the bathrobes separately from your other washables and do not forget to remove the bathrobe's belt before washing it
– Avoid the bathrobe's contact with skin care products as they are likely to leave stain marks on the bathrobe
– While washing the bathrobe, please refrain from using fabric softeners and bleach as it may damage the bathrobe's fiber
– Add half a cup of disinfected white vinegar to remove any detergent build-up along with the lint
SPECIFICATIONS
SKU NYTBATHROBEWOMENHOODWHITEXL
ASIN B08KLR4SM1
Manufacturer NY Threads
Pieces Per Pack 1
Pieces Per Carton 12
Carton Dimensions 21 x 15 x 16 inches
Carton Weight 0.0 pounds