Description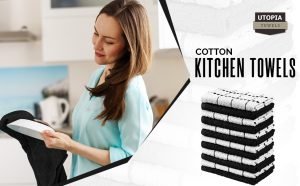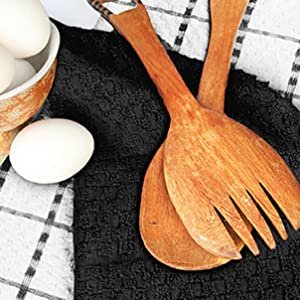 RINGSPUN 100% COTTON FOR SMOOTHNESS
Maintain your kitchen surfaces or wipe your hands, while preparing your favorite cuisines, with these premium quality kitchen towels. Made of 100% cotton fabric, these towels possess breathable characteristics which make them perfect for polished surfaces and your hands.
Being terry in nature, theses weaves are the most absorbent of all kind with loops on both sides that create extra surface area for completely drying off all surfaces.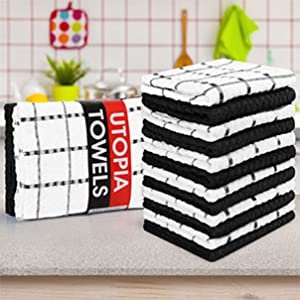 PERFECT GIFT FOR YOUR LOVED ONES
Ideal for your kitchen, this towel will give you the most comfortable feel and soft touch base when used. You can even send this towel as a gift to your friend or to your eldest one while sending them off to college. This towel brings easy convenience to your daily routine. Whether hung together in the kitchen or neatly folded and stacked in the cabinet, you can never go wrong with this.
<br<
CARE INSTRUCTIONS
While bleaching softens towels, it also causes them to wear out faster. Always wash new towels before use. Excess dye, chemicals, etc., can still reside in factory produce towels. You may also use fabric softener on towels. To ensure the long life of towels, wash them on a very gentle cycle in cold water before drying them on low setting in a tumbler.

SPECIFICATIONS
SKU UTKITCHENTOWEL6BLACK
ASIN B009N83O1C
Manufacturer Utopia Deals
Pieces Per Pack 12
Pieces Per Carton 204
Carton Dimensions 18 x 15 x 21 inches
Carton Weight 0.0 pounds