Description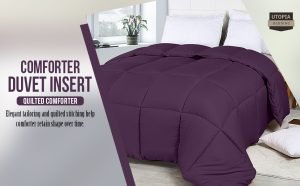 HEAVENLY SLEEPING EXPERIENCE
Our Plush Siliconized Fiberfill Down Alternative Comforter provides you with a heavenly sleeping experience. Cuddle with this soft, fluffy fiber-filled cloud-shaped comforter to indulge in a blissful sleep. Don't be surprised if you sleep through your alarm. Our comforter promises sweet vacation-quality slumber.
This comforter also has characteristics similar to a duvet. The duvet fits snugly inside a duvet cover which can be removed and washed when needed. With duvet covers, you can also quickly and easily change the look of your bed and room without having to completely redecorate.
ALL – SEASON COMFORTER
This classic style of down comforter is suitable for all weathers. It's soft and have the finest quality of stitching to give a comfortable and reliable sleep all night.is the description
CARE INSTRUCTIONS
Wash the comforter with the machine set on the gentle or delicate setting with two rinse cycles, using cold water. Add a small amount of all-natural detergent.